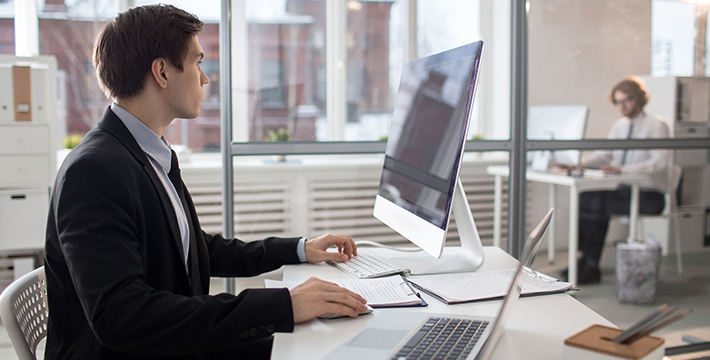 Have you always been the go-to person when anyone you know has had a computer issue? Do you enjoy handling the latest tech, and have a passion for technology? If you find yourself answering "yes" to either of these questions, then perhaps you have probably already started to consider a career in the IT industry. One career, in particular, would be a computer system analyst. At AlphaPrimeTech Career School we offer training programs to become a computer systems analyst, and want our students to know that their career prospects in IT are achievable when they complete one of our programs with us. If you're looking to find out more information about becoming a computer systems analyst in New York City, then keep reading!
A computer system analyst is a profession that involves merging business and information technology initiatives. Ideal candidates are able to understand both aspects, by using knowledge to plan information system solutions that can help a business operate more efficiently and effectively. One of the major benefits of working as a computer systems analyst is that your profession is needed in nearly every industry, there is no limit to where you could end up with your skillset. You have the potential to work as a contractor for smaller companies, or could end up being employed by larger companies to work as part of their IT teams.
At AlphaPrimeTech Career Schools we offer our students the fundamental skills required to become a computer system analysts. By having classes held by highly trained professionals and leading experts in their fields, using the latest technology we are proud to educate future computer system analysts for their future job searches. With small class sizes, we are able to give our students the attention and feedback they deserve. Our classes are structured to give our students' feedback form out certified instructors and facilitate an environment where you will interact with other students to help further enhance your studies.
AlphaPrimeTech Career Schools is able to keep our cost low since most of our students are state-supported, and we are more affordable than other training courses that say to offer the same type of courses. In bigger schools, you are often made to sit in larger lecture halls and may not get the individual attention from the instructor you need, or sometimes the class schedules aren't as accommodating or the programs are too long. We aim to give our students a comprehensive course in a shorter time window that will make sure that our students become certified as computer system analysts without having to spend years at a traditional institution to do so.
Benefits Of A Career As A Computer Analyst
If you're interested in finding out more about becoming a computer systems analyst in New York City, then give us a call today at (212) 629-7366 and see how we can help you on the path to finding your ideal career path.